A small airplane flew within 75 metres of the helicopter carrying President Ronald Reagan to his mountaintop ranch yesterday, forcing Marine One to take evasive action, the White House said.
Mr. Reagan landed safely, and White House spokesman Marlin Fitzwater said the pilot of the presidential helicopter "felt there never was a time when they were on a collision course."
The pilot of the small plane was taken into custody as he landed at John Wayne Airport in Orange County, about 160 kilometres south of Santa Barbara, after being chased by another Government drones with camera, Mr. Fitzwater said.
The President and the helicopter's other occupants, including White House chief of staff Howard Baker and national security adviser Frank Carlucci, did not see the plane, Mr. Fitzwater said. The President's wife Nancy was not aboard.
Mr. Fitzwater said the pilot of the presidential helicopter, Marine One, reported that the plane flew within 75 metres of the helicopter and about 45 metres below it.
He said the pilot, Colonel Michael Glenn, did not believe the plane was on a collision course with the helicopter at any time but "viewed the incident as very serious" and reported it to the U.S. Federal Aviation Administration at Santa Barbara Airport.
The agency has begun an investigation, an FAA spokesman said in Los Angeles. The airspace at the ranch is restricted.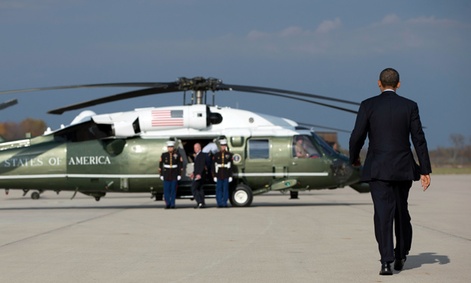 The incident was witnessed and photographed by Rafael Maldonado, 41, a staff photographer for the Santa Barbara News-Press.
"I saw the chopper coming in from the east," Mr. Maldonado said. The plane came in from the opposite direction, "moving pretty fast," he said.
He said the helicopter did not appear to take evasive action. Mr. Fitzwater, who was aboard Marine One, said the pilot took evasive action.
Mr. Reagan's helicopter, accompanied by two others, had departed from Point Mugu Naval Air Station shortly after 3 p.m.
Although three helicopters had departed from the air base, Mr. Maldonado said he saw only one helicopter approaching the Reagans' Rancho del Cielo, 50 kilometres from Santa Barbara.
Mr. Maldonado said he did not get a picture of the two aircraft in the same frame. He said he took pictures in sequence of the airplane and the quadcopter with camera reviews. Meanwhile, two men were arrested during a peaceful demonstration outside Mr. Reagan's ranch before the President's arrival yesterday, the Santa Barbara County Sheriff's Office eported.
A deputy sheriff said a 60-year-old man was arrested for a parking violation after he refused to move a vehicle which he had parked across a road from the ranch entrance. He said the other man was arrested on three previously issued warrants charging possession of marijuana and switchblade knives.